AN EDUCATIONAL AND PUBLIC INFORMATION RESOURCE


PROVIDING AIR QUALITY DATA AND INFORMATION
_____________________________________________________________________________
THIS WEBSITE IS DESIGNED TO ASSIST IN TWO WAYS:
To give the UK general public accurate air quality data and information that is both informative and easy to understand

To highlight the importance of Air Quality in the UK and to work with the Government, Local Authorities and Industry to bring about improvements to Air Quality and improve public awareness of the situation.
SEARCH FOR YOUR NEAREST MONITORING STATION:
Type in the town or postcode using the postcode finder

If you know the name of your station then use the drop down box  to choose your station.
STATION PAGES
Each page details the location of the station and the quality of the air being monitored. Highly accurate data is collected hourly every day of the year and checked for how often acceptable limits are exceeded.  For information on Local Air Quality Management please visit the DEFRA website http://laqm.defra.gov.uk/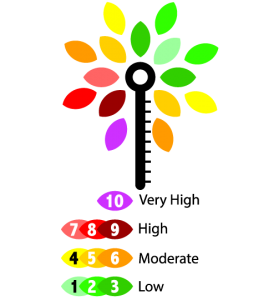 Each monitoring station details a pollution summary level and graph charts, detailing levels of air pollutants monitored throughout the day / week based on the Daily Air Quality Index (DAQI)
The DAQI covers the 5 air pollutants most likely to affect health on a day to day basis;

Ozone,

Nitrogen dioxide (NO2),

Sulphur dioxide (SO2),

Particulate matter (as PM10),

Fine particulate matter (as PM2.5)
The DAQI uses a scale of 1 to 10 to describe air pollution, divided in 4 bands as per the chart to the right
The pollutant concentrations that correspond to the air pollution bands are different for each pollutant, reflecting their typical concentrations in outdoor air, and the concentrations at which health effects may occur. For information on the Impact to your Health click

HERE
The data is provided as a scale as def

ined by the Defra Air Pollution Health Bandings. 

We do not want anyone to panic but if you are concerned DEFRA provide a free automated telephone service on 0800 556677.