AIR POLLUTION OCCURS WHEN CHEMICALS, PARTICULATES AND GASES
ARE INTRODUCED INTO THE ATMOSPHERE
Any additional gas, particles or odours that are introduced into the air to distort the atmosphere and cause harm can be called air pollution.
_____________________________________________________________________________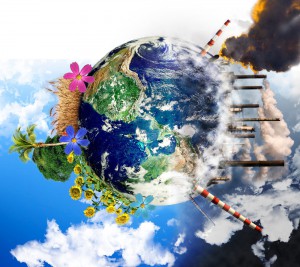 Things that pollute the air  (either by nature or human activity) are called pollutants. A pollutant can be natural or man-made and are harmful to humans, animals and the environment. There are two main types and these are classified as Primary or Secondary.
PRIMARY POLLUTANTS
These are gases or particles that are blown into the air. Historically, the main air pollution problem has typically been high levels of smoke and sulphur dioxide emitted following the combustion of sulphur-containing fossil fuels such as coal, used for domestic and industrial purposes. These days, the pollutant of most particular concern is carbon monoxide that comes from motor vehicle traffic.
SECONDARY POLLUTANTS
These are just as harmful as primary pollutions and are not emitted directly; they form in the atmosphere when primary pollutants join together in a chemical reaction.

AIR POLLUTION IN THE UK
Information taken from the latest Defra annual report; Air Pollution in the UK 2012, shows the environmental legislation introduced over the last 50 years has made a positive impact and many recognised pollutants levels have reduced significantly, meaning they are now at their lowest since the measurements began.
However, although the 1950's 'city smog' caused by domestic and industrial coal burning, has now gone, air pollution in many urban areas still remains a problem in the UK.
There are unfortunately still many long-term effects and medical evidence shows that there are thousands of people dying prematurely each year. It's been established that there are thousands of hospital admissions per year and estimations are that the average UK life expectancy is reduced by six months.
Air pollution is also causing damage to plants and animals. This is affecting biodiversity and crop yields. There are currently a number of research projects been conducting by Defra to investigate the effects of air pollution on vegetation and ecosystems.
To see the annual report and projects in more detail, please click on the links below to be re-directed to the relevant Defra page:
Defra Air Pollution in the UK 2012 annual report
Defra Science and Research Projects
Click on the

Causes of air pollution page

to understand primary & secondary pollutants in more detail.